UK risks friction as it drops tariffs on Boeing jets in bid to end WTO spat
Boeing and Airbus's long-running transatlantic dispute over government subsidies to their civil aircraft development industries has taken a new turn following the UK government's unilateral decision to suspend tariffs on the US airframer's aircraft imports.
The UK's Department for International Trade says it has opted for an "independent approach" to the aerospace conflict, as well as other trade issues with the USA.
While the European Union imposed tariffs on Boeing in November, a year after a similar penalty on Airbus jets was introduced by the US government, the UK's departure from the EU this year – and the impending end of the transition period on 1 January 2021 – means it will be able to act separately.
International trade secretary Liz Truss says the government is suspending "retaliatory" tariffs arising from the Boeing dispute – a measure which would effectively give Boeing the ability to import aircraft to the UK while Airbus, in which the UK holds a manufacturing stake, would still be disadvantaged.
The UK department says the intention is to encourage a "reasonable settlement" of the 16-year spat and show the country is "serious" about reaching a negotiated outcome – although it adds that it reserves the right to re-introduce tariffs if there is no progress.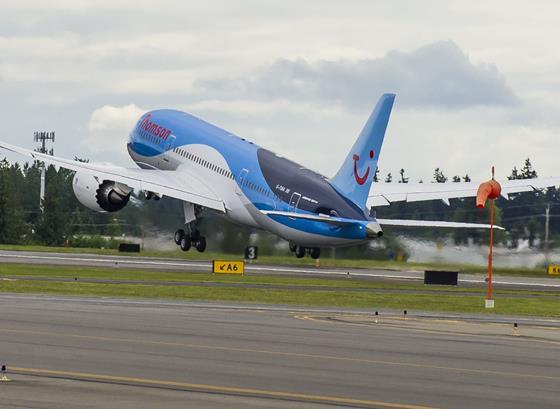 Airbus has long insisted that resolving the dispute, which has churned through the World Trade Organization since 1994, requires the two sides to negotiate.
The UK government has been keen to establish a new trade relationship with its US counterpart following its exit from the EU.
"Ultimately, we want to de-escalate the conflict and come to a negotiated settlement so we can deepen our trading relationship with the USA and draw a line under all this," says Truss.
But she adds that the UK is to continue to counter US tariffs on aluminium and steel imports by maintaining its own tariffs to protect the UK steel industry.
The measure has not been welcomed by the UK aerospace industry representative group ADS, which says it is "disappointed" that the UK has taken unilateral action "without securing some reciprocal action" to advance a resolution.
Boeing started the transatlantic duel with Airbus over subsidies but, following the WTO's rulings of one another's cases, the conflict has descended from legal sniping into a tiresome war of attrition, with each side imposing tariffs on a range of products – of which aircraft are the most high-profile – while underlining its claims of unfair government support.
Neither side landed a knock-out but the US government arguably emerged as the victor, by means of a points decision, having ultimately been granted authorisation by the WTO, in October 2019, to impose $7.5 billion worth of countermeasures against the European Commission's award, 12 months later, of nearly $4 billion.
Both combatants have opted to put a 15% additional duty on one another's airliners. With European authorities almost certainly to follow, in lock-step, any further US tariff hike, and their primary commercial aircraft manufacturers already under economic pressure, a negotiated settlement would seem to be inevitable.
Boeing backlog data indicates there are nearly 440 unfilled orders from EU customers, excluding those in the UK, while similar Airbus data points to more than double this figure, some 920 jets, set for delivery to US operators. Each side's total includes around 80 twin-aisle aircraft.