Global 5000 maintenance revision aims to avert roll-control reversal
Canada's safety regulator has drawn attention to new maintenance instructions intended to avoid possible misinstallation of roll-control systems for Bombardier Global 5000 and 6000 business jets.
Incorrect installation of the system has the potential to cause spoilers to deploy in directions opposite to a roll command.
Transport Canada states that "several" in-service reports have been received involving a single roll-control input module being fitted incorrectly, while one report has mentioned both being fitted the wrong way round.
If both are fitted incorrectly, in the same manner, the misrigging condition causes the multifunction spoilers to oppose roll commands.
"Investigation has determined that it is physically possible for a [roll-control input module] to be installed and zeroed 180° from its intended…installation orientation," says Transport Canada in a directive that took effect on 21 October.
"Misrigging of the [spoilers] in this manner could lead to loss of control of the [aircraft]."
It says the maintenance manual for the type has been revised, with enhanced tasks including a new functional test, to "improve the robustness of post-maintenance checks" and "reduce the likelihood" of misinstallation during servicing.
"These improved tasks provide additional guidance to ensure proper orientation of the [module]," the directive adds.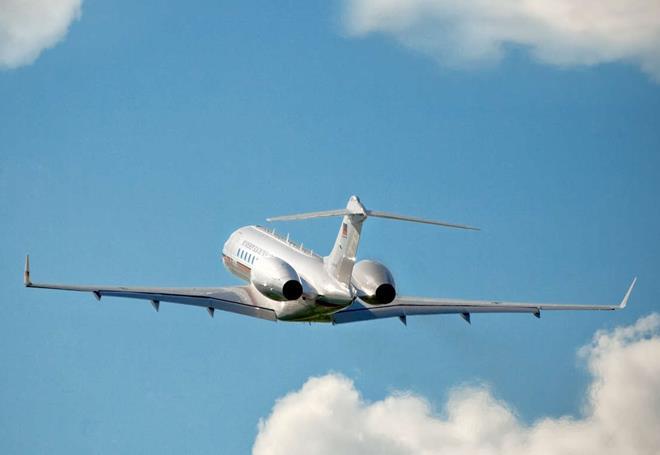 Misinstallation of such modules, and the resulting reversal of roll control, was cited as the reason for the serious upset involving a German air force Global 5000 at Berlin Schonefeld on 16 April 2019.
The air force says the official report into the incident is classified, but has previously stated that the jet had undergone maintenance at the LBAS facility at Schonefeld before its departure for Cologne with three occupants.
It experienced severe control difficulties but its crew managed to return to Schonefeld and land the aircraft 27min after take-off.
Transport Canada has not clarified whether the directive specifically relates to the Berlin incident, simply pointing out that it mandates corrective action following any investigation into potential unsafe conditions.
"This investigation takes into account all the relevant data which is considered industry confidential and treated as such," says its airworthiness division. "Accordingly, we cannot share additional information on this matter."